The In-Between: Whitney Fort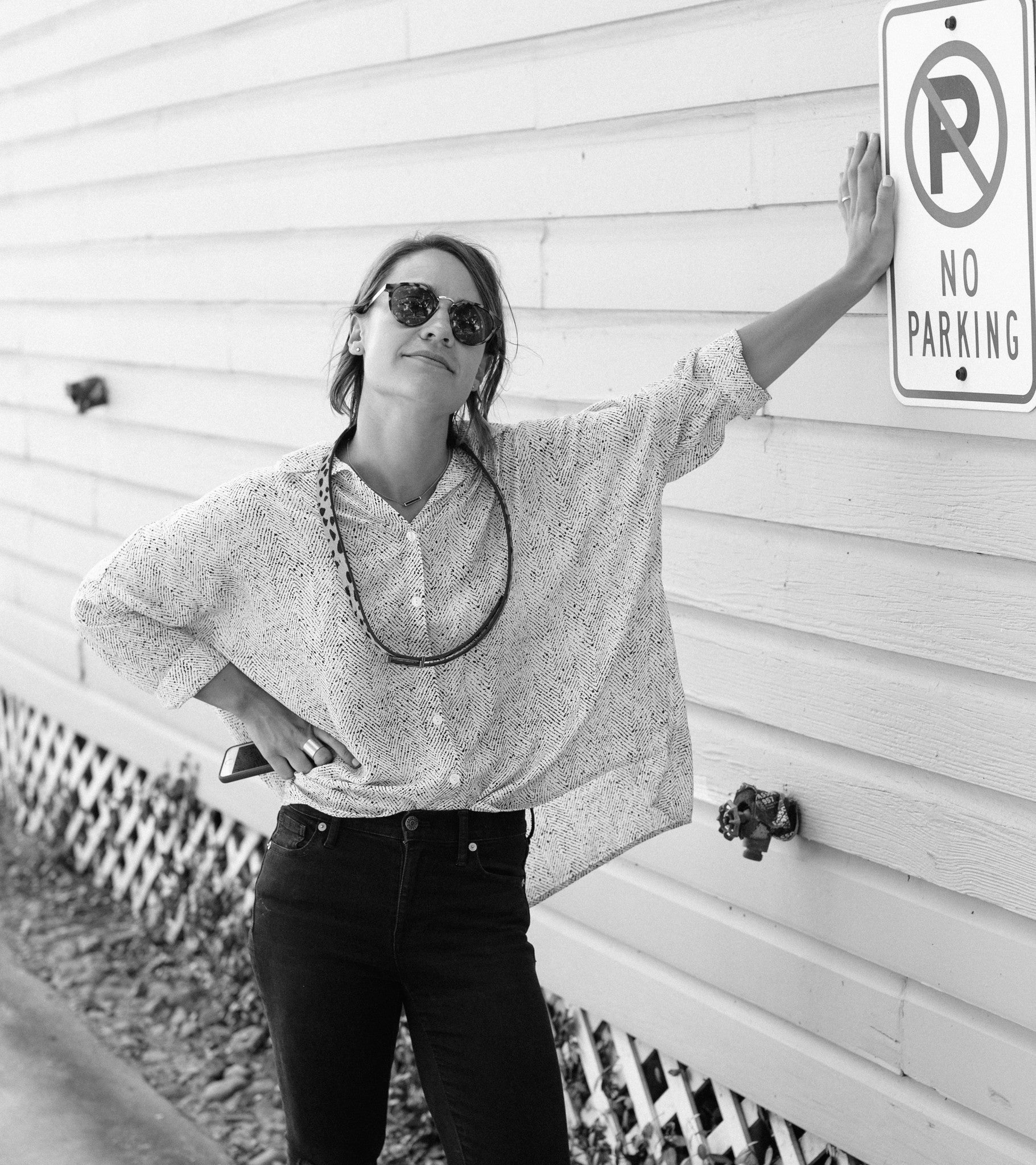 Whitney is the Founder of WHITFORT, a design services company with plans to transition into a mens lifestyle brand in the coming months. She is also our very own Design and Development Manager at Kit! Before launching WHITFORT, Whit did merchandising with the visual team for Anthropologie in Houston. She attended the University of Texas - Hook em'! - and resides in Tomball ( Yes, this is a place) with her husband . Author's Note: Whitney plays a number of roles here at Kit, but it all started with... Craigslist. She bought something from someone on Craigslist, and that person introduced her to our founder, and the rest is history. 
 ______________________________________________________________________
What did you want to be when you were a little girl?
An architect - I asked for architecture books almost every Christmas when I was little I think… I also think it's safe to say this was before I realized that would involve a lot of math. Soon after this I would jump back and forth between starting my own clothing business and being a physical therapist. I played a lot of sports growing up and loved the idea of working with athletes… again that involved math and science which was quickly ruled out.
I think I always knew I would be in a creative field. I was dubbed "the creative one" in the group at an early age and loved art, fashion, and rearranging my room constantly.
I recently found a business card I made for a class project in 6th grade -  "Future Clothing Industries | Whitney Miller, Designer | NYC, New York" … amazing.
What was your very first job?
I was about to say hostess at Zocalo Cafe in Austin during college (go now and try their white queso - #noregrets), BUT how could I forget my true first job of scouting for a little league football team? My junior year of high school every Saturday I would go and film hours of football for this one team's coach. Looking back I am not sure if that was legal. 
What was your major in college?
Advertising along with the Business Foundations Program at UT.
Did you want to pursue a career in that field?
Yes, I chose advertising because I was interested in their Portfolio Program. I wanted to pursue Art Direction - it seemed like a good alternative to my briefly entertained idea of going to art school. A combination of creativity and business… I might even make a living for myself!
I was accepted into the program my sophomore year. At the beginning they tell you about how there are no grades until final critique when they bring in art directors and copywriters from all over to judge the campaigns you have been working on for months. There is just one rule: you CANNOT BE LATE to final critique. You must be ready to go by x o'clock… you see where this is going don't you?
I was up for over 50 hours prior to this holy day, my partner and I finished around 3-4 AM the morning of and we both decided we would take a cat nap to refresh ourselves. I still feel bad for my roommates who woke me up about 10 minutes before I was supposed to be there after my alarm did not go off. Lola, one of the roommates offered to drive me to campus and help me carry my campaign boards.
I can still see the looks of horror on my peers' faces as I sprinted past them holding all of the dang foam core wearing God knows what saying to myself … this.is.a.dream. I didn't make it. Neither did one of my partners. There I was sitting in the hallway, crying like a baby from disbelief, exhaustion, and frustration.
It's amazing how loss creates time for reflection. I am thankful for what happened because it forced me to stop, reflect and see how I was moving toward a career and person I did not want to be. But what next? How do I transition… do I transition? Is it too late?
When you got out of school, what did you do?
I finished the advertising program and decided not to re-enter the portfolio program.
After graduation I applied for several marketing and advertising positions in Houston - where my fiance was living and working. I made it to the last round of interviews with a few agencies, but never to the offer. I felt deeply, and often, that this wasn't it - don't settle.
I am honestly not sure how I stumbled upon the idea of doing merchandising, but an opportunity to interview with Anthropologie came up and I thought… why not? Side note: Kristen Wiig was a merchandiser at Anthropologie before her reign on SNL. Another reason to say why not...
After a few interviews I did not hear back for several weeks - I began to think that ship had sailed. During the silence, I was also interviewing with a marketing agency that offered me a job. Even though I was hesitant  I took it on the spot like a fool. I remember my oldest brother saying "Hey Whit - you just got your first job - this should be exciting."
I knew I had settled. I broke down crying in Chipotle (of all places) a few hours later and after calming down I made the decision to call the company and let them know I had changed my mind - that I would not be taking the job. Literally one minute after I hung up the phone I got a call from  Anthropologie offering me a position.
The thing about it is - we can feel so stuck. We always have a choice - in our behavior and our thinking we always have a choice. I chose to take that marketing job, but then I had a choice in whether or not to keep it… sometimes the cost seems far too high so we stay - but realize that is your choice.
For how long?
I was with Anthropologie for three years. There was not a current opening on the Visual team at first, but I started as a Manager in Training (MIT) and worked my way into it. I have come to realize that I love a good challenge - go ahead, tell me it can't be done! I worked my way from MIT to interim home merchandiser to my final role there as women's accessories manager and merchandiser.
Did you find it fulfilling? What did you take from it?
Absolutely. I was able to go to work every day and create beauty out of chaos; a story out of product. I was stretched creatively. Not to mention I was surrounded by incredibly talented people - people that continue to inspire me today.
I learned so many things working at Anthro, but mostly the importance of taking initiative. If there isn't a spot with your name on it, show them there needs to be.
How did you plan your next move? Did you plan your next move?
I did plan my next move. My great aunt has always been a mentor of mine and she has always said, "when you've learned everything or you've stopped growing, it's time to move on." I try to be conscious of the degree to which I am being stretched, and I was at a point where I felt the tug to move onward. On and off in the back of my mind since high school was this idea of starting my own business, but the specifics were still not clear. I knew I needed a stepping stone out of Anthro and one kind of fell in my lap. An admin and marketing position opened up at the Oliver McMillan office in Houston - a mixed-use real estate development firm and, after interviewing, I decided to take the position.
I stayed at OM for a little over 6 months and then put in my notice to start my own design business.
How did you start?
One step at a time. Day by day. I started with the clients I already had been working with since college doing freelance graphic design, branding, and clothing design. I think I called my oldest brother, who has been my unpaid under the radar creative director of sorts since the beginning every other day, saying "what am I doing again?"
You need that person. The person or people or quote or song that can remind you of the goal. Why did I leave my secure job again? Was this worth the risk? Because you will forget. You will forget over and over and over again in the beginning so you have to find ways to remember.
What was the scariest thing about it?
My vision for the business wasn't crystal clear when I left. Some might say that it was unwise to leave, and they might be right. I knew I was starting with work from my current design clients with the goal for that to fund the beginnings of a men's lifestyle brand.
What has been the most rewarding part of what you're doing now?
I'm learning! I'm growing and the pieces are falling into place. My brother Andrew always says "Those who risk, win." I could not agree more. Winning doesn't necessarily mean all the money and all the success and all the things - it might, but it mostly means growth to me.
And if I had not left my job to pursue this dream I would not have met Merin without whom I would not be where I am with WHITFORT or had the opportunity to be apart of the Kit team as Design and Development Manager!
A story for another day: the Craigslist connection that brought Merin and me together.
What is the most challenging thing about growing and scaling?
Letting go of control. Having a timeline, but also throwing the timeline out the window. I think for me I have a tendency to compare, and the reality is every business is different.
What is your biggest weakness?
Cue Rihanna: "Work Work Work Work Work" - I can tend to overwork myself. Resting is hard for me, just ask my husband. I am always working on a project or planning the next one. I look around and I see something that could be made better so I have to fight myself for not only rest but contentment.
What is your biggest strength?
I would say faith. Not solely my relationship with God, but I have always been able to dream and truly believe that it could happen, so I work like it will happen. I think that is why I have been able to take a fair amount of risks along the way that have lead to opportunity. Along with that I would say my drive (also my weakness) - I am never really finished with myself.
Are there any goal setting, organizational or other tools you must have?
A planner! I am old school - I have two physical planners and I do not use my computer or phone calendar. I currently love Dash and Dot Design Studio's monthly planners. I also love to write with Le Pen - you can't catch me anywhere without them.
Also, a person or team of people that help remind you why you are doing what you are doing or just give you a high five on a daily basis. This has been essential in keeping me focused and motivated. I keep an "Ego Boost" folder in my filing cabinet with cards and notes of encouragement  that I have been given from people along the way.
What do you see in your future (work, life, everything)?
I see WHITFORT becoming a men's lifestyle brand. I see my brother coming to work with me (and being paid :)). I would like to have kids someday and travel to Europe with my husband. I would love for both my husband and I to have jobs that are life giving and never be too comfortable.
1 Response
Leave a comment
Comments will be approved before showing up.