Edition 3: From Souvenir to Dress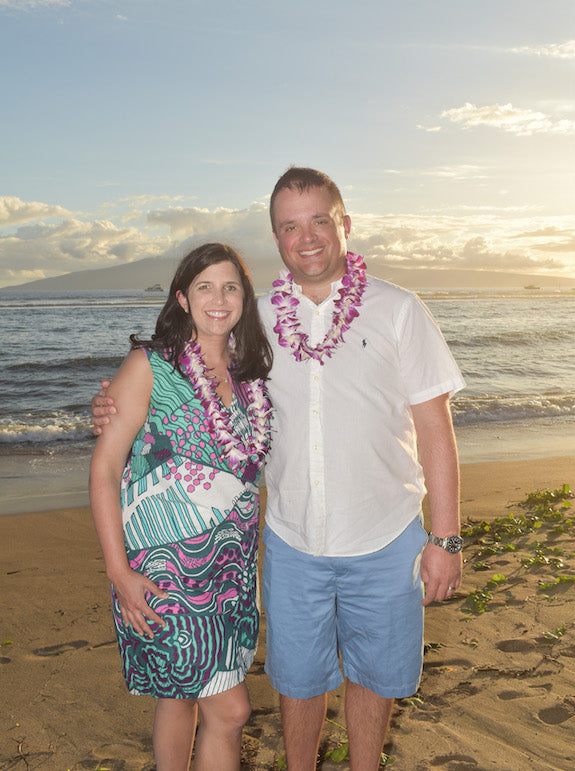 Edition 3: From Souvenir to Dress
Katie Wilson came to us with a unique souvenir. A beautiful fabric that she found in Lagos, Nigeria on a work trip. When serendipity brought Kit and her together, this beautiful fabric turned into the perfect dress.
Why did you come to Kit? What did you want and what was your vision?
Katie: Kit did an event at this vendor space we have here at ExxonMobile. I check it out and started talking to Merin about this awesome fabric that I purchased on a work trip and was just sitting in a closet at my house. When I purchased the fabric, I had no vision or plan for the fabric. I just loved it. 
Did you have a specific style or fabric in mind?  
Katie: I went on a work trip to Lagos, Nigeria, and I asked a local woman that I was working with to take me shopping. I had seen all this beautiful fabric, and I wanted to go check it out. We went to the mall there in Lagos, and there was an entire store with beautiful fabric. 
I am extremely drawn to magenta and teal, and when I saw the fabric that became my dress, I fell in love. I actually hadn't even converted my dollars over to the Nigerian currency. So there I am, trying to barter with the woman who brought me to the mall to purchase this fabric for me. 
I have always loved the Lilly Pulitzer shift style, so I felt like that would be the right direction to go in. I did have an idea that it could be something I wore to for my upcoming wedding and honeymoon. 
Where did we start? 
Merin: Actually, we started on Instagram! I am notoriously terrible at staying on top of our Instagram account (too much cutting and sewing to be glued to my phone), but we received a direct message from Katie while we were at Exxon Mobil's campus for a week-long pop up shop. Anytime anyone says that have fun fabric to show me, I'm super excited. Everyone on our team loves fabric - we practically hoard it at the studio - so when Katie described it, I was like, "Yes, bring it by!" Awesome fabric is the best starting point. 
What was the thought behind the style and fabric? 
Merin:  We told Katie what we always suggest with a fabulous fabric: let it shine. She was exactly right in gravitating towards a shift dress - the fabric has a large, fun pattern, and breaking it up would have lessened the impact of the print. A really great print is almost always best showcased in through a somewhat simple style. Plus, I really love a fun, colorful shift!
Why didn't you shop at a traditional store for a dress? Or, if you tried finding something, what did you feel was lacking about the things you saw in stores? 
Katie: No, I really didn't. I bought this fabric, and I had no idea what I wanted to do with it. It was just sitting in a closet waiting for something to happen. Then I saw Merin, and it all came together. 
How did you hear about Kit? Had you shopped with us before? 
Katie: I had never heard of Kit or shopped before, but ExxonMobile has this awesome space and different vendors are brought in like Kit. 
After my custom dress, I did purchase a swim shift as well. 
What was the design team's initial response? What really stood out to us about her project?
Merin: Definitely the fabric - If you buy fabric while traveling without anything planned for it, you've come to the right place! We have fabrics that were purchased years ago simply because we couldn't pass them up.  
What were the challenges from a design and/or manufacturing standpoint?
Merin: We wanted to make sure were using the print in a manner that honored its origins. Fabric bolts are often sold in quantities that reflect the prevailing style in their country of origin; sari fabric, for instance, almost always comes in 4 to 6 yard lengths with a pattern variation at different points throughout the bolt. Nigeria has an incredibly rich history of textile weaving and printing - from batiks to woven patterns - and we wanted to be respectful of that tradition when making Katie's dress. What we didn't want to do was make a dress that looked like it could be any other Lilly-style shift dress. Rather, this is a vibrant Nigerian fabric rendered in a classic American style and successfully done the two parts, style and fabric, would be balanced and work in harmony.  
What were the fit or fabrication challenges?
Merin: Thankfully- no. It is a pretty simple style and the fabric worked very well with the style that Katie wanted. 
What was your favorite part of the Kit experience?
Katie: I really loved working with Merin. She was incredibly nice and easy to work with. She saw the possibilities of the fabric. She could intuitively tell me what would be perfect for the fabric.  
What did you think of the finished product? Was it worn for something special? How did you feel wearing it?
Katie: I love it. I love it so much. I wore it both the day after our wedding at our brunch, and then I wore it again on our honeymoon. It was perfect in both settings. 
Kit side: what we thought of the final product--- if it is something that inspired designs for our own styles, etc 
Merin: We had such a positive response to the picture of the finished product along our Instagram followers that it really got us fired up to add some more prints to our fabric roster. We're adding some super fun, colorful prints next Spring and then again next Fall - exciting stuff! 
Leave a comment
Comments will be approved before showing up.