Edition 4: The Vintage Ice Skating Dress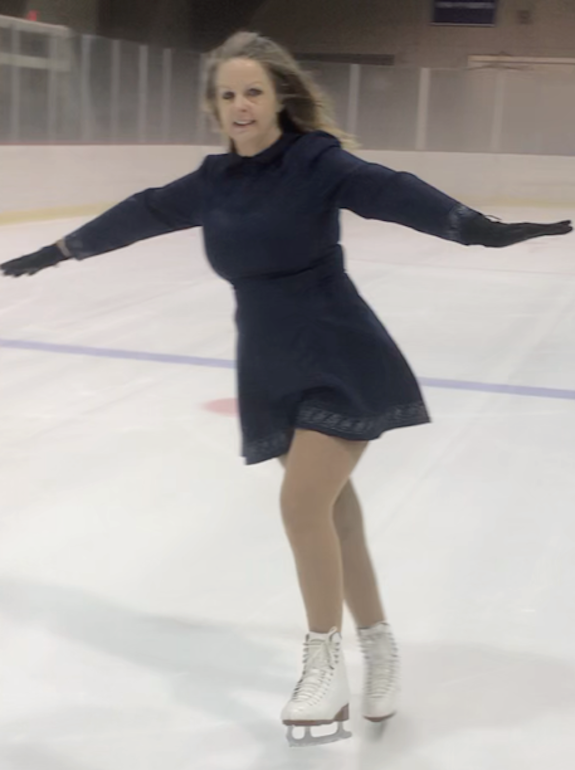 Edition 4: The Vintage Ice Skating Dress 
When Christine uttered the words: vintage ice skating dress, we knew it would be a challenging project, but we couldn't resist the chance to help Christine attain her goals, feel great, and look amazing. 
Why did you come to Kit? What did you want and what was your vision?
Christine: To start, I am a middle-aged figure skater who started skating when I was 50, and when you test or skate in competition, you have to wear a skating dress. I started looking for an upcoming test, and I felt that everything out there was too foofoo, too low-cut, and too revealing. Nothing suited my personality. 
I love all things old, and I was perusing etsy looking at vintage skating dresses styles. I couldnt' find anything vintage in my size, so I found a 1940s/50s vintage skating dress pattern.My mom suggested I used the pattern and have something custom made. 
Did you have a specific style or fabric in mind?  
Christine: Vintage styles in mind. A pattern that I found from the 1950s. It was more like a dress. Fitted at the bodice and flared at the waist. When I skated or spun, it would flare out. 
It was more demure than the typical skating dress. Long sleeve, peter pan collar. It came down the lower/mid thigh. 
Where did we start? 
Merin: When Christine emailed us about an ice skating outfit, I was apprehensive… because I immediately flashed to Nancy Kerrigan/Tanya Harding 1990s sparkles. But when she sent me pictures of her 1940s vintage wool skating patterns, I was super excited. They're just so much fun. She mentioned that she had an actual vintage pattern, which we asked her to send us. We used that pattern (from the 40s) as a template, updating things like tiny arm and neckholes. 
Is there a story behind your fabric or style?
Christine: I was into new wave and punk rock back in the 80s, and I got really into vintage clothes. From there, I was hooked and it has always been my style. I feel like vintage clothes are better made, the styles are more traditional, and I'm not hanging out of them. Vintage styles just fit "me," the package of what is Christine. 
I ice skated as a child in Canada, but at six, I told my parents that I was interested in other things so never really pursued it. I wished I had never given it up. One day I was at the ice rink waiting for my son to finish up in the locker room after ice hockey, and I saw some adults go out on the ice. I asked one of the coaches if they did adult learn to skate. Now, I have been skating for five years, and I go every morning before work. 
When it came time to looking for a skating dress, I went straight to looking at vintage patterns. 
I have a few adult skating friends who feel, like me, that the costumes are skimpy and they didn't feel like themselves. I knew I would have to find something that fit me. All of the skating costumes from the 1940s and 1950s were perfect. When I found a pattern I loved--- it had fit. It had flare. It met all the criteria for my skating test. 
Merin sent me 12 fabric samples. It came down to two-- they were both wool. I fell in love with both those final choices, but I went with the blue. I am training for the gold level test, and I told Merin not to throw out the pattern because I want this dress made again in the other final fabric, a green and gold fabric. 
Why didn't you shop at a traditional store for a dress? Or, if you tried finding something, what did you feel was lacking about the things you saw in stores? 
Christine: I actually had another experience with a figure skating costume maker. I wasn't happy. It wasn't right. The skating costumes were all about hand beading, sparkle, netting, low necklines,, and short skirts. When they asked me, "well how much swarovski crystals do you want hand beaded on there?" And I said, "well, I don't"--- I knew it wasn't the right place for me. It was also evident that they took off the rack dresses and tried to customize it. 
How did you hear about Kit? Had you shopped with us before? 
Christine: I can't exactly remember, I think I found Kit either on etsy or google, but it was definitely online that I first heard about Kit. I fell in love with what I was reading, and I knew that Kit needed to make this skating dress for me. 
What was the design team's initial response? What really stood out to us about her project?
Merin: So many things - we had never made a vintage ice skating dress before, and while we make a ton of day dresses with an emphasis on functionality, we don't make a ton of clothes intended for a highly athletic end use. There were so many unique aspects - using a vintage pattern, using an old-school fabric (a woven wool), maintaining movement - that we were constantly juggling.  
What were the challenges from a design and/or manufacturing standpoint?
Merin: A mid-weight wool is a great fabric, but doesn't have any give, so it presented a challenge: how do we maintain the integrity of the vintage style and fabric while also making sure it was functional and had mobility. The design utilized princess seams, which we tweaked slightly to increase movement in the skirt, and we also made the sleeve a bit looser so Christine could easily lift her hands above her head. Long sleeves in a woven wool aren't known for their range of motion, but I tried it on before sending… and executed some very clumsy pirouettes. 
What were the fit or fabrication challenges?
Merin: Using an 80 year old pattern is fairly trippy, because it is based on measurements of women who grew up during the Depression. I'm not joking: patterns made for women in the 40s reflect the fact that those women weren't nearly as well nourished as children as we are today. So odd measurements are incredibly small (like neck openings!). Plus everyone was a good deal shorter than the average woman today, so we needed to change the proportionality of the torso and skirt lengths. Much of it is a demanding geometry exercise, but there was a certain bit of eye-balling it and saying, "okay, that looks right." Part art, part science. 
What was your favorite part of the Kit experience?
Christine: I was excited throughout the whole process. When she sent the drawing and the material, I honestly expected to have to go back and forth a few times, but Merin nailed it every time. When I called her and said, "it needs a little bit of trim around the bottom and arms based on the pictures," she said, "okay and she nailed that too." 
What did you think of the finished product? Was it worn for something special? How did you feel wearing it?
Christine: When the dress came, the dress fit beautifully. My mom even said "it looks gorgeous on you." My mom is in her 70s, and she grew up in a time when they made their own clothes. She couldn't find any flaws in the making of the dress. 
I wore it for my Adult Silver Moves in the Field test, an ice skating technical test. 
You can tell it was custom made for me. The fit is perfect, the color is perfect, and it had just the right amount of trim on it. The judges commented. The coach commented. After my test, people came up to me and asked about it. 
It suits me. I don't know how to describe it. It just flows. It is beautiful. 
Leave a comment
Comments will be approved before showing up.