Edition 1: Bridesmaid Dress Collaboration with a Creative Floral Designer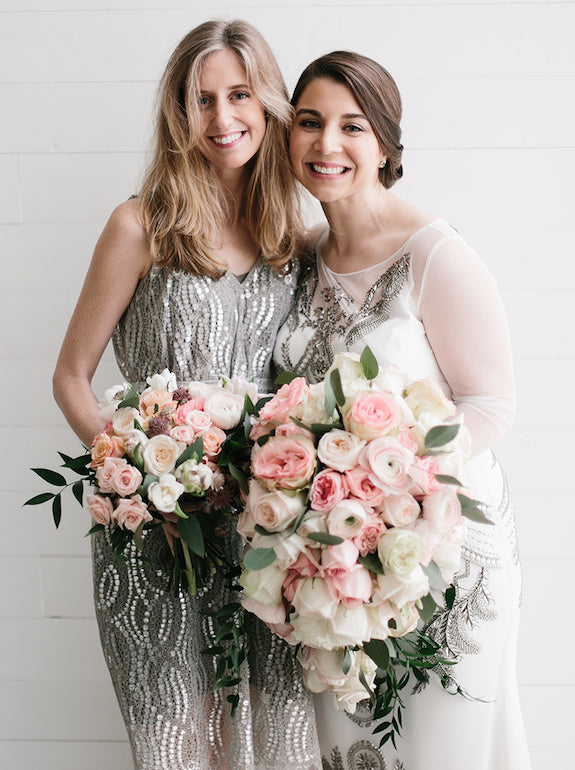 Edition 1: A Bridesmaid Dress collaboration with a Creative Floral Designer
One of our all time favorite custom projects was one of our first custom projects. Cameron Hardesty, Founder of Poppy approached us about making the bridesmaids' dresses for her wedding in March 2017, and we just couldn't say no. We sat down with Cameron and Merin to discuss both sides of the project in this first edition of Tales from the Cutting Room. 
Why did you come to Kit? What did you want and what was your vision?
Cameron: I had positive experiences with the previous Kit items for I got for myself. I didn't even think twice about having Kit make the bridesmaids' dresses for my wedding.
My goal was to have bridesmaids' dresses that were flattering and rewearable. I wanted my bridesmaids to feel comfortable and confident in their dresses. I loved the dresses so much that I even got myself one. 
Did you have a specific style or fabric in mind?  
Cameron: I really didn't know. The inspiration came from wanting a dress that flattered everyone. Merin is incredible at sourcing fabrics, and she sent me a box of swatches. We landed on one that I absolutely loved. It was a metallic lace made by a heritage American lace company, and that specific fabric gave rise to the style and shape of the dresses. 
Where did we start? 
Merin: Fabric! When Cameron asked us to make her bridesmaid dresses, I knew that the key was going to be a spectacular fabric. She is a brilliant floral designer, and there was no way she would love a bridesmaid dress that was in a solid colored chiffon. I dug through our fabric samples to send her anything that seemed really special. Prints, metallics, and laces all made the cut. She chose a really detailed metallic lace from one of the oldest American lace companies, and we built the style around that.
Is there a story behind your fabric or style?
Cameron: With my background in floral design, I always look at the material. What material do you have to work with and how do you draw inspiration is always my question. That's pretty much how Merin and I created the dresses. 
Why didn't you shop at a traditional store for a dress? Or, if you tried finding something, what did you feel was lacking about the things you saw in stores? 
Cameron: No, I didn't even look. 
How did you hear about Kit? Had you shopped with us before? 
Cameron: Merin and I knew each other from college, and I had purchased pieces from Kit previously. 
What was the design team's initial response? What really stood out to us about her project? 
Merin: We were so thrilled that Cameron asked us! We had only been around for a year and a half, and this was just our second bridesmaid dress project. I think the thing that really stood out was her trust in us and her absolute desire to have fun in the process. I remember trying to figure out my own bridesmaid dresses, and it seemed like just another wedding grind task. Cameron really wanted to enjoy the process and have fun with it, and that set the tone for the dresses.
What were the challenges from a design and/or manufacturing standpoint? 
Merin: The challenge with bridesmaid dresses is always to make something that is going to look flattering on a whole group of women and their various sizes and shapes (including a pregnant bridesmaid). Choosing a style that had drape with a hint of volume helped us thread that needle. Super fitted dresses only flatter some women and super voluminous dresses only flatter others. Any style that has a natural shape to it, meaning that it follows the flow of the body, with a bit of volume where you need it for movement, is going to work best across the board.
What were the fit or fabrication challenges?
Merin: Lace drapes differently on different bodies - it is super responsive to your curves - so I really wanted to see the dresses on each bridesmaid to make sure that each dress draped well on each woman. The only time to do that was the morning of the wedding, so I brought my home machine with me to the wedding. As it turns out, having someone with a sewing machine at a wedding is an all around good idea!
What was your favorite part of the Kit experience?
Cameron: You can be creative with Kit. There are guardrails for the creativity, but you aren't starting from a blank page. If I went out to do this by myself, I wouldn't have even known the place to start. Merin has great taste and an amazing eye for fabrics. You can trust her and know she will make your vision work. 
What did you think of the finished product? Was it worn for something special? How did you feel wearing it (or seeing it worn – in the case of bridesmaid dresses). 
Cameron: I loved it. It made me so happy to see my bridesmaids look happy and comfortable. One of them was 5 months pregnant at the time and she looked awesome. 
Merin was actually a guest at the wedding, but she was so gracious and came into our dressing room and helped make last minute adjustments to a few of the dresses. I appreciated that she was willing to take the time to do that. 
After the wedding, I was desperate to have one for myself, so Merin gave me one as a gift!
What we thought of the final product--- if it is something that inspired designs for our own styles, etc
Merin: We loved them so much! The fabric was really spectacular and the dresses were just right for the wedding. They looked incredible with Cameron's wedding dress, the bridesmaids were comfortable and happy, and the pictures are amazing. A win for everyone! 
Leave a comment
Comments will be approved before showing up.