Interview: Maggie Hanna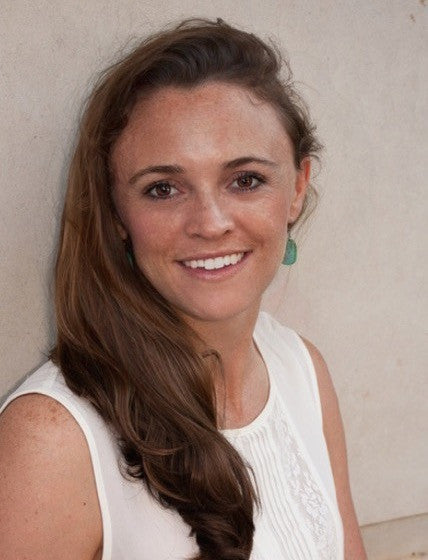 Maggie is part of a new generation in agriculture. Growing up in an ever-interconnected society, the children of family farms and ranches are striving to protect their family farms and ranches while simultaneously seeking progressive methods of ranching and farming.
Maggie Hanna was born and raised on her family's fourth generation cow-calf operation in Hanover, Colorado. She now splits her time between working as the External Relations Coordinator for the Colorado Cattlemen's Agricultural Land Trust (CCALT) and being home on the ranch. CCALT works to protect Colorado's agricultural land, heritage, and families for future generations by conserving working rural landscapes. 
Tell us a bit about yourself: how would you describe yourself and your life in a quick snapshot?
I grew up on a fourth generation cow-calf ranching operation in southeast Colorado. My dad passed away when I was younger, and my mom has managed the ranch by herself until recently. I'm from a very traditional ag family with a non-traditional structure: my mom running the ranch.
I got my undergrad in US History and Urban Planning from Trinity University in Texas. After that, I moved back to Colorado and was an El Pomar Fellow. While I was there, I had the chance to learn and work on rural grantmaking, which spurred my interest in land use. With my fellowship completing, I went to work for Americorps for a year in eastern Oregon. We focused on building a web platform that matched rural communities with funding when they wouldn't have otherwise had the grant writing or staff capacity to find and receive funding.
I decided to go back to school to earn a certificate in Ranch Management. I am committed to being engaged in my family operation. I moved back to the ranch to commit to the ranch and took a job with Colorado Cattlemen's Agricultural Land Trust (CCALT). It was the first land trust founded by producers when it was founded by Cattleman in 1995. To date, it has protected 500,000 acres of working lands and is the fifth largest land trust in the country and largest land trust in Colorado. It was the fastest to hit this milestone and working there is completely fulfilling for me at this point. Its goal is to keep families on their land and it is tied very closely to my own goals. 
If you had to describe yourself using three adjectives, what would they be?
Can I hyphenate them?
Hard-working, high-energy, loyal.
When you were a child, what did you want to be when you grew up?
When does that end for people?! I still have things I want to be when I grow up. Growing up, I didn't have a specific career or occupation in mind. I have a lot of memories of wanting to be engaged in groups and communities with a strong belief in service.
What was your very first job? 
I grew up on a cow and calf ranching operation, so jobs began with the beginning of my life.
My first job began when my sister and I started a company. I was about 10 or 11 years old. Our mom worked with people in the horse show business, so we started a little company. We were called "The Ripper Sisters" and we even had business cards. During horse shows, we would wander around and work for other people taking care of stable work like grooming horses. That job taught me a lot about managing expectations, accountability, and responsibility.
What do you do to occupy your time: work, family, community?
I fill my time with my work, my family's ranch, and serve on multiple community boards. I drive to Hanna Ranch every weekend. This may also be why I'm still single. 
My interests and my work are the same thing right now. I'm totally fulfilled in how I spend my time at work and at the ranch.
When I'm not at work or commuting to the ranch, I serve on the board of the Pikes Peak Cattleman's Association, Central Colorado Soil Conservation District, and Nature Conservancy Advisory Council. Most recently, I was invited to the Colorado Agriculture Leadership program.
What are the hardest decisions you've had to make? 
I'm still very young in my career, so this is a hard question to answer. I'm at a point where I'm very fulfilled in the work that I do.
Right now, I think I'm nearing the hardest decision I will have to make. That is whether I need to leave a job I love to managing the ranch full time. On a day-to-day basis, it is a challenge to be present with what I'm doing. Whether it is checking emails for my job when I'm on the ranch or thinking about the ranch when I'm at my desk in Denver.
Tell us about any mentors or figures that are crucial to how you see the world or what you've chosen to do.
My immediate family: they influenced me beyond means. My dad, his work and his life. My mom as well.
I have been really, really lucky. I'm so lucky to be surrounded by great women but also great mentors, men & women. 
What do you consider to be your greatest success this far? 
I have had some pretty wonderful wins so far. The greatest success in my relatively young career would be that I feel fulfilled on a daily basis by the work that I'm doing.
Oh, and that my mom and I are working together to manage the ranch and we still enjoy each other's company.
What has been your greatest failure and what did you learn from it?
My greatest failure is a challenge I'm still facing today. We decided to lease a piece of our property, and that arrangement has turned out to not be the best situation. It has weighed heavily on the ranch, particularly its legal and financial capacity. But the ranch has a lot of opportunities to grow.
Where do you see yourself in 15 to 20 years? 
Wow, 15 to 20 years is a long time. I would love to have grown the ranch. My dad was leading a very progressive and recognized ranching operation, and then, he passed away. My mom took over and went into survival mode. I want make the Hanna Ranch a progressive, top-notch organization.
I also want to lead an organization, and I have played with the idea of local government engagement.
I don't think my occupation defines me. The most important things for me are land management, ranch management and people management. That has been the way I have chased my career.
What is the top item on your bucket list – something you'd love to do but haven't yet? 
I don't keep bucket lists, but I would say that I want to travel more.
Describe your personal style: how does it reflect your day to day and your values?
There are two terms that I use regularly to describe my style: Prairie chicken and a term my friend came up with: western prep, simple sparkle.
It is a mixture of things but comes back to my Colorado roots. I love cowboy boots and, according to Vogue, 2016 was the year of the cowboy boots. I love a good fitted black dresses with wild scarves. I went to prep school, so I also like a popped collar on a white collared shirt.
Oh, and pearl earrings no matter what, whether it is bringing in cattle or going to meetings in Denver!
If you ran into your 18-year old self, what advice would you give her? 
Own it. This is my personality, this is who I am. This is my style, I am who I am.
1 Response
Leave a comment
Comments will be approved before showing up.