The In-Between: Cameron Hardesty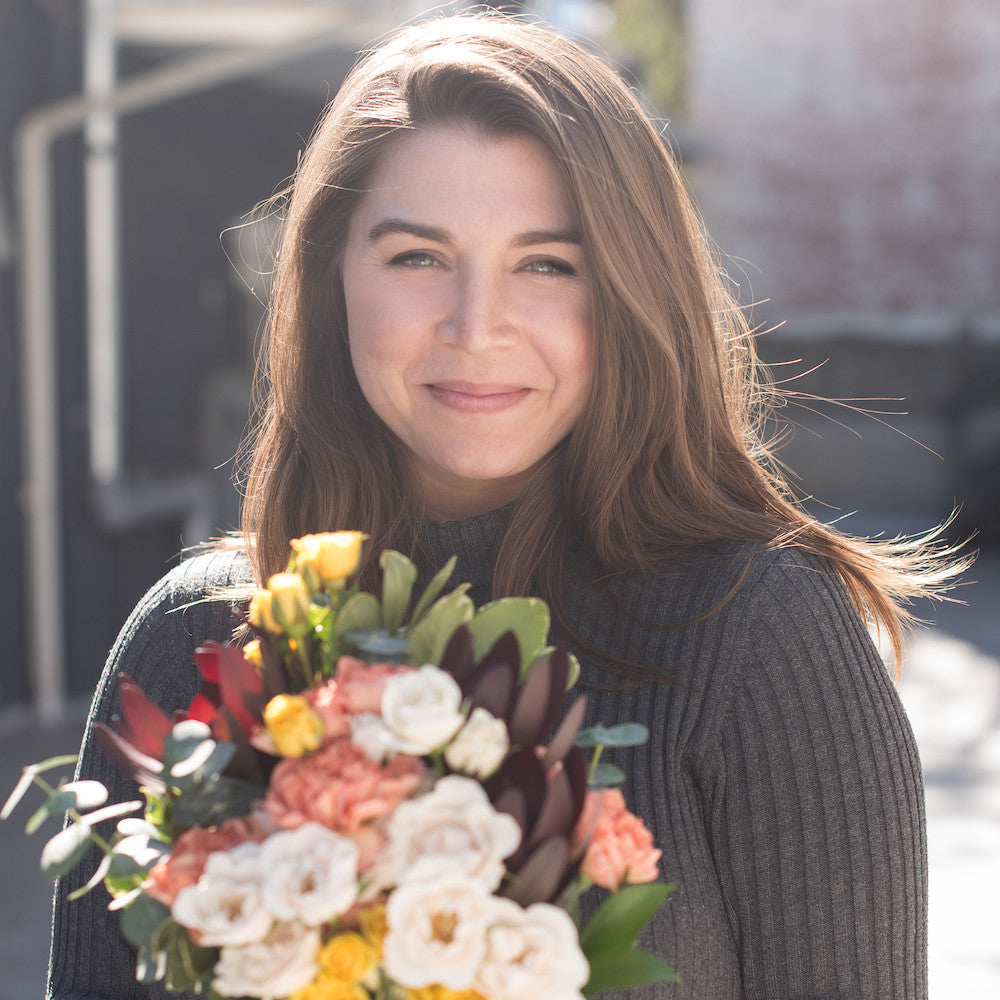 Cameron Hardesty is Head of Products at UrbanStems, an e-commerce flower delivery start-up headquartered in Washington, D.C. Prior to that, she worked in communications in both the private and public sectors. She is also a Kit customer (and long-time supporter) and looks adorable in the Liberty floral print.  
---
What did you want to be when you were a little girl? 
When I was a little girl, I think I wanted to be a writer. I remember writing song lyrics a lot. I loved writing.
What was your very first job? 
I taught swimming lessons the summer after 8th grade with my friend's mom, who had a swim lesson business.
What was your major in college? 
English with a strong focus on poetry. I basically took a series of poetry workshops in college.
Did you want to pursue a career in that field?
Definitely not. I just went off to college and knew that I was either going to be a philosophy major or an English major, which are basically the two least marketable majors you could possibly choose. I didn't have any idea what was out there after college. The only career path I really saw was to get an MFA in Poetry and become a professor. Because that was what I saw modeled. I had no clue that there was a communications industry or that I could be a speechwriter. I definitely wasn't picking a major strategically.
When you got out of school, what did you do?
Ten days after graduation, I moved to DC and did an internship at a public affairs PR firm called APCO. After that I had a brief, month-long contract at an education start-up. And then from there I went to work for Customs & Border Protection in their Commissioner's office. I started out as Executive Assistant to their Chief of Staff. And while there I tried to think about how to do something more writing heavy. So I moved over to their public affairs office, and that really kicked off my career in communications.
And from there, somehow, you ended up at the White House. How did that happen?
I left Customs & Border Protection to move back to Spain, where I had studied abroad in college. I very much used that as a reset. I was teaching English to fourth and fifth graders in a suburb of Madrid, and I almost stayed it was so great. But I was introduced to someone in Edelman's HR office via a college friend, and I started talking to them toward the end of my year in Spain. I went back to DC and worked with Edelman for a year and a half or so. Then someone who I had worked with at Customs had an opening on his team at the White House Office of Drug Policy. It was really crazy and fun.
Did you find it fulfilling? What did you take from it? 
I really did. I had been working in crisis communications at Edelman, where I learned a lot about rigor and process and long nights. I had a diverse set of clients and when I left I was getting interested in financials services, so drug policy was totally foreign to me.
Working on drug policy allowed me to work while doing good and helping people; we just had so many opportunities to make a positive impact on people. As a speechwriter, part of my job was to find people and their stories that illustrated the impact of good policy. I was able to invite one of those people to a day of policy discussions at the White House. He had been in prison under mandatory minimums in California and had researched his own case and represented himself on appeal and gotten his sentence reduced. And then he entered recovery form drug addition and started his own nonprofit to help others. Doing stuff like that was eye opening and super inspirational.
Of course there were parts that were not as fun. Usually being busy in drug policy doesn't mean great things for the rest of the country, so that started to wear me down after a while.
How did you plan your next move? Did you plan your next move?
I definitely planned it; it was part luck, part planning. The White House staff gets to take special holiday tours of the White House – I took my parents – and the flowers were really incredible. I realized that I was in the same email address book as the Chief Floral Designer for the White House. I Googled her and, in my mind, she was this larger than life really talented person who was really busy and didn't want to be bothered. But I thought it would be really cool to be introduced. My fiancée encouraged me to email her and get over it. She turned out to be incredibly nice and welcoming and warm. And she let me hang out in the flower shop. So I kind of apprenticed myself to her.
At the same time, Urban Stems was co-found by a co-worker's husband. At the very first stage of the company, I started helping with design advice and random stuff, kind of whatever they needed. And as the company grew, and as my time with the White House florist expanded, I kept helping Urban Stems. Over the course of the next year things got more serious with them. At a certain point I was working at White House, working with Urban Stems, spending time at the White House flower ship. I had to take a step back.
How did you start? 
The Urban Stems opportunity just blossomed into a full time job. It was a move I was hoping to take for months, and then they basically established a full time role for me. The timing was great.
What was the scariest thing about it? 
Assuming more risk with my career than I had ever done before. I went from working in a relatively stable environment with great benefits and traveling with US Marshalls to the total unknown. This was well before we had raised our Series A round, so things were very bootstrappy. We were throwing a lot of things against the wall, some things were great and some things were failures. It was a rollercoaster. There was a risk of dropping into an unstructured environment for the first time and a risk of 'this might not work and we might not be able to turn the lights on next month.' But I really believed in them and what I had seen was really promising.
What is been the most rewarding part of what you're doing now?
I entered this role form a very strong design perspective, and what I have evolved into is more on the business side of things. I've learned a lot about how to build a business, how to track margins, how to track costs, how to build supply chains. That's not something that I expected, but I really love it. If I was just focused on the design piece, I would probably be a bit bored. Building the business is where my creativity really shines, where I can dig into complex problems and decisions. That has been really fun.
What is the most challenging thing about growing and scaling? 
Being able to stay focused. There are so many different things that I could be doing. In my first year I've tried a lot of different things, and it's hard to stay focused on one thing because I find myself wanting to get ahead of myself or wanting to manage too much at once. I want to do it all perfectly and then when I inevitably drop the ball, I realize my limitations. And, at this point, I'm starting to surround myself with really smart people who can take on pieces of what I do now.
I should start keeping a diary, because when I look back at what I was doing a year ago, the scale and the impact were so much smaller than what I'm doing now. Even month over month I level up my thinking about what my job means, where the company is going. I don't even notice it, but when I think about what, functionally was I was doing was totally different.
What is your biggest weakness? 
Not being a project manager. I wish that I were the type of person who naturally gravitated towards a project manager type of mindset. And I have evolved a lot towards that, implementing structure and process in my own workflow, but I admire people who are naturally really good at that. But that goes along with the focus: I think it's not being able to just focus on one thing and run it into the ground. I try to multi-task too much.
What is your biggest strength? 
My biggest strength is the ability to see three moves ahead: to be strategic and piece things together quickly. I think the poetry brain is related to that – I think the ability to make unusual connections is really similar to the thought process that goes into creating an analogy or a metaphor or writing a poem. Creative thinking.
Are there any goal setting, organizational or other tools you must have?
One thing I really like doing is a time audit. I use the app Toggle, and I realized that I did three things at once because I couldn't figure out which task to enter into the app, I was literally doing so many things at once!
Google Calendar for sure. And then Google Drive. Google Sheets. Pretty much the whole suite of Google products! Our team uses Slack, which I love.
What do you see in your future: work, life, everything and anything? 
My plan is to stay at Urban Stems for the foreseeable future because there's a lot of work to do and I'm really excited about what we're building. And then I have my wedding coming up in March, which I'm excited for… the flowers, the (Kit!) bridesmaid dresses. I find that I'm procrastinating about having kids. When I was in my early 20s, I was like: "I'm going to be married at 30 and then well on my way to having kids." And now I'm like: "Well, I'm going to be married next year and then have kids at 35."
I feel like I'm so excited about my career and where it's going that I don't want to slow down at all. I know that you can do both, but I feel like I'm so focused on my career at the moment. I know I want to have kids, but I keep putting it off.
Travel, flowers and, in five years, babies. That's my plan.
Leave a comment
Comments will be approved before showing up.