Interview: Sara Segall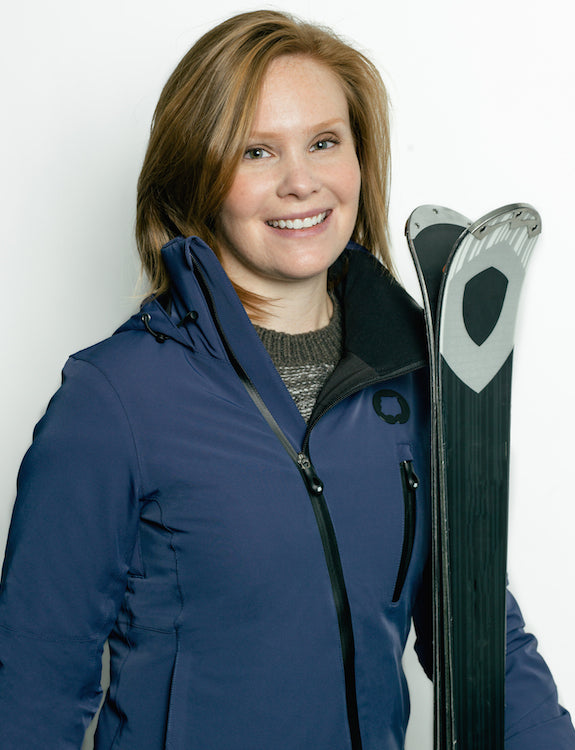 Tell us a bit about yourself: how would you describe yourself and your life in a quick snapshot?
I'm the founder of Orsden, a direct to consumer ski apparel company that I launched last winter. I'm an avid skier; it's my favorite pastime. I've always been really athletic and entrepreneurial – so launching an activewear ski apparel brand was the perfect storm.
I actually didn't grow up near mountains – I grew up in Cincinnati, OH – but I went to Dartmouth for college and fell in love with northern New England, the mountains and the lifestyle. I took a circuitous route to getting back here. After college, I worked in DC at a think tank, and quickly decided that it politics was too divisive for me and that I wanted to do something else. I went to Columbia and got my MBA, and delved into the retail scene. I knew I wanted to start a retail company of some sort, so when I got the idea for my company, I decided to launch it!
If you had to describe yourself using three adjectives, what would they be?
Driven, outgoing, a little impatient.
When you were a child, what did you want to be when you grew up?
There's a quote that I love, that I think is Diane von Furstenburg from an AmEx commercial that, paraphrasing, says that she, "didn't know what she wanted to be but knew the type of woman she wanted to be."
I wanted to be so many things: a plastic surgeon to a fashion designers to a press secretary on Capitol Hill. Across all of them, I knew I wanted to do something exciting and challenging, and something where I would be constantly exposed to new people and experiences. And I always saw myself running things.
What was your very first job?
My first job was as a sales associate at the Gap. I was 16 and spent the summer working at the Gap at my local mall.
What do you do to occupy your time: work, family, community?
My life is crazy right now. My business is just under a year old, so I would say that my business is my life. But luckily my business encompasses a lot of the things I love.
What does a direct to consumer ski apparel company mean? I love to ski and was shopping for ski jackets with my husband a couple of years ago and we couldn't get over how expensive things were. Being an MBA, I thought, "there's got to be a way to do this more efficiently and less expensively for the consumer." I looked into it, and the industry is built on mom and pop brands that aren't doing much for the consumer. We launched in October with a ski jacket for men and women. Since then it's been a crazy whirlwind.
It's a small scrappy team, and I have my hands in everything – product, marketing, digital – and I'm also the person who is shipping boxes. So my life is just this crazy whirlwind. But it's really exciting and I wouldn't trade it for some of the old corporate jobs I've had because of all the people I've met and how much I love figuring out how to solve challenges.
Beyond that, something I really love about my life is getting outside and being active and enjoying the outdoors all while 'working'. It's something that's important to me.
What are the hardest decisions you've had to make? 
Starting the company. Going from a very great, stable job – I was working at Revlon after business school – and starting something. It was like jumping off a cliff and going into the unknown. It was hard to pull the trigger. I tried to do both for while, but at some point you have to take that risk.
Tell us about any mentors or figures that are crucial to how you see the world or what you've chosen to do.
I think someone who is really crucial to making me who I am today is my grandmother on my mother's side.
She was so influential to me. She never held a formal job, but she was incredibly involved in her community and was passionate about politics on a local level. She always showed me that I could do anything and was really supportive about helping me find things I was passionate about and serving as a role model as a woman in charge. She wasn't the CEO of a company, but she played a huge and impactful role in her little town in Ohio.
What do you consider to be your greatest success thus far? 
I would say that getting Orsden up and running as a viable, revenue generating business pretty independently. But, alongside that, is working with my husband for a year and still being married! My husband is kind of like the silent co-founder, we work pretty closely on the big picture.
What has been your greatest failure and what did you learn from it?
I don't know that this is a single great failure, but there are some things that I have failed at. At one point I had a very sales-focused job; it involved cold calling and all of that, and I was just really not good at it. It was very hard for me to cold call and give these pitches, and I really didn't like doing it at the time. Looking back, it was great experience and helps me do what I do now. And it makes me conscious of getting better at sales and improving those skills, which makes me a better entrepreneur.
Where do you see yourself in 10 or 20 years? 
I hope to be still running Orsden, but with a team to help support me and the business. And really kind of cultivating a great corporate environment for that team, and serving as a role model for other female entrepreneurs in the outdoor industry – there aren't many of us. Serving as a mentor.
What is the top item on your bucket list – something you'd love to do but haven't yet?
Go on a safari. That's easy! I love animals and the outdoors, I'd do it in a heartbeat.
Describe your personal style: how does it reflect your day to day and your values?
I would call my personal style an evolution. It started out very kind of preppy, "Midwest preppy", and then morphed in DC into formal style and looking appropriate, but today it's pretty clean and streamlined, with a few twists. I like to wear high-quality basics, but then add in a fun shoe or piece of jewelry. I also keep things on the sporty side – nothing too formal or corporate.
If you ran into your 18-year old self, what advice would you give her? 
"Be patient."
Which is generally something I try to work on. I have found that everything worthwhile, whether career or partner or idea, takes time. You shouldn't just jump at the first opportunities that come along. It can be tempting to cross something off the list and be done with it. Listen to your gut and hold out for the right thing.
Leave a comment
Comments will be approved before showing up.