Interview: Leigh Rawdon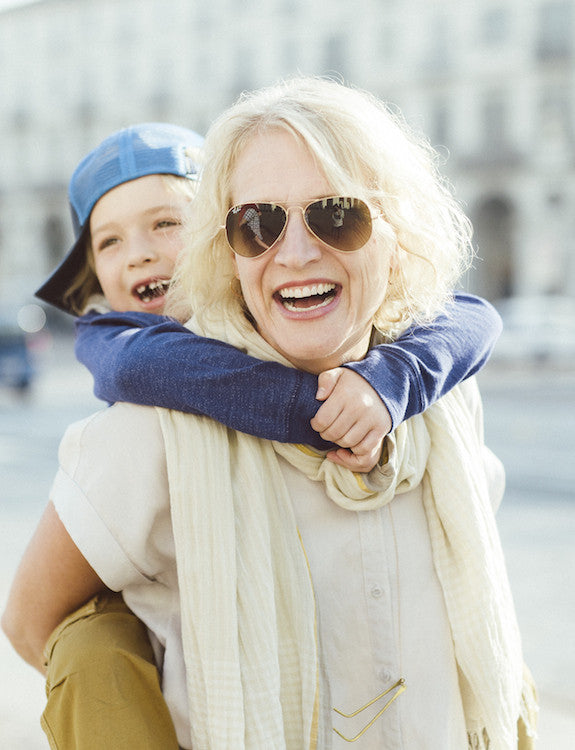 Leigh Rawdon is the co-Founder and CEO of Tea Collection.  She co-founded Tea in 2002 to offer children's clothing that celebrate the beauty found in cultures around the world. While the majority of Tea's business is ecommerce, the collection is also available in hundreds of retailers including Nordstrom.  Now with 80 employees, San Francisco-based Tea Collection has been recognized for the last six years in Inc Magazine's "Inc 5000" list of America's fastest growing private companies as well the San Francisco Business Times lists of fastest growing companies and largest women owned companies in the Bay Area. Leigh earned a BA in English from Davidson College and her MBA from Harvard Business School. Leigh taught entrepreneurship as a lecturer at Stanford Graduate School of Business, and she is a member of Young President's Organization.  Leigh lives in Oakland, California with her husband and two elementary school age sons.
Tell us a bit about yourself: how would you describe yourself and your life in a quick snapshot?
How would I describe myself and life in a quick snapshot… you know, I think the best description is to say:  my life is full. It is full of really good things. I love my role as cofounder and CEO of this amazing company with our great culture. Tea Collection is ever evolving and always growing.
I feel the same way about my family. I have an eight and ten-year old and we live in Oakland. We love life and encourage our children to be curious about the world. We have taken the boys to Costa Rica, Mexico, China, and Thailand to name a few. We just finished a US history road trip in preparation for seeing Hamilton. When we are home, we are at soccer games, with family, skiing, doing school events, and staying as active as possible. We want them to love life and be curious. 
If you had to describe yourself in using three adjectives, what would they be?
Entrepreneurial, optimistic, and driven.
When you were a child, what did you want to be when you grew up?
I always wanted to start and run my own business.  
When I was a little kid, I would make baked goods and sell them door-to-door, and, as a teenager, I started a helium balloon delivery business.
I always had little businesses going. I would orchestrate musical performances and fun events and sell tickets. I always wanted to work with people and find their talent and bring it to life.
I applied to college knowing that I wanted to start a business and do this.
I felt – and still feel – compelled to be an entrepreneur. 
What was your very first job?
My first job "real job" was as a summer intern at Memphis Magazine. Since it was unpaid, I also worked a job at the Hampton Inn call center from 3:30 pm to midnight with only Tuesday and Thursdays off.  Those were some long days! 
What do you do to occupy your time: work, family, community?
We spend a lot of time on the soccer sidelines and, in the winter, we ski in our free time.
I also just try to make sure we have some downtime. We have family reading time, cook meals together, and we have long, long dinners full of good conversation. 
What are the hardest decisions you've had to make? 
Needless to say there are many hard decisions. But it was not a hard decision to quit my job and start this company. Not a hard decision to get married.
Sitting in Silicon Valley, where we have Google, Facebook, and so many venture capital-backed tech darlings, we made the decision not to play that game. We wanted to build a brand that is sustainable, customer-focused, design-driven, and devoted to corporate social responsibility.
We bought out our early investors to be independent, to run this company entirely focused on doing what is right by our customers, community, and employees. It was a hard decision, but so clearly the right decision. We have no safety net. No out. We have to own and run this company to be something good in the world. 
Tell us about any mentors or figures that are crucial to how you see the world or what you've chosen to do.
Patagonia and Eileen Fisher. They have a commitment to core principles and transparency. I take a great deal of inspiration from such successful companies that have focused on transparency in their operations.  
Then there are individual figures who paved their own path. They don't take a predictable, stereotypical path. Right now, I am so inspired by Lin-Manuel Miranda because he is creating an image of the country's founders in a modern interpretation that no one expected.
I have a few personal mentors. Carol Quillen, the President of Davidson College. She is an inspirational leader in the way she is rethinking higher education.
We have two current board members that I think of as mentors. Hilary Billings, who has worked with Pottery Barn and W Hotels, and Roger Kase, who helped build and lead Esprit in its glory days neither followed a predictable path. The brands they have worked with had such meaning at their peaks. My one-on-one relationships with them mean a lot to me. 
What do you consider to be your greatest success this far? 
I'm really humbled by and proud of what Tea is in the world. We found our voice around curiosity and discovering the world. We want to make the foreign more familiar one t-shirt and one catalog at a time. I think it is a great success to touch families and reach kids in such a way. 
What has been your greatest failure and what did you learn from it?
I'm so much of an optimist that what could be perceived by some as failure tends to lend itself to a new path for me.
I was a year out of business school when we were starting the company in 2002. My co-founder and I were living in Silicon Valley, and I was fresh out of Harvard Business School We thought we had to go out and raise money; that was what people did when they started companies. So, we went down that path to try to find investors.
We focused on angel investors, and we got a lot of rejections. That was tough. It felt like a failure. We thought our business plan wasn't compelling and we weren't confident enough. We felt like it was a reflection on our plan. 
Finally, we decided to pull together small investors and raise a sufficient amount to get started. I remember receiving that first $10K and it allowed us to go to New York to a trade show. We made do with the small amounts. It felt like a failure, but that path, and how it shook out with our limited resources, made us better able to prioritize and move forward. And it made us fierce. 
As a result, we focused on becoming financially independent sooner rather than later. We were able to get to profitability pretty quickly and eventually buy out our investors and give them a small return. We were able to be independent and didn't have to focus on selling our idea to investors.  We could just focus on the business – which is what we want to do anyway!
Where do you see yourself in ten years? 
I'm very fortunate to love the work that I do and to have work that I can see myself doing in ten years. Nothing in my job feels routine or repetitive. I very much see myself in this same role. I imagine a much larger Tea that is reaching more and more families.
How it reaches them will change as the ecommerce and retail landscapes change. In ten years it will be much bigger and more accessible.  When we started Tea, there was no such thing as Facebook, iPhones, Pinterest, and Instagram. It continues to change and shape how consumers engage with brands. We must stay on top of the changing landscape and make it our business to engage consumers.  
What is the top item on your bucket list – something you'd love to do but haven't yet?
I have two things on my bucket list.
First, which is likely to happen when our kids are bit older: we can't wait to travel to and explore Patagonia with our children.
The second item feels more aspirational, and that is to live abroad. Since my husband and I met, we wondered if we could live abroad as a family and be immersed in another culture and language. 
Describe your personal style: how does it reflect your day to day and your values?
Casual California style, Modern, and always with a personal touch.
I choose colors and styles that are subtle and that have a touch of. I always add a piece of clothing that has some meaning to it. A scarf that a friend gave me from her travel to Italy or a vintage Tea item from a women's line that we did a few years ago. 
I always wear Levis, a San Francisco brand. I appreciate their reinvention and celebration of authenticity. I like to try to find and support new, independent brands as well – it feels like a way to pay-it-forward to help out in a small way to support someone getting started. 
If you ran into your 18-year old self, what advice would you give her? 
This is one I think about a lot because my kids will be 18 in no time.
I would encourage myself to choose schools and jobs not to prepare for life or for the next step - but to make choices knowing that schools & jobs are life. It's not a means to an end.  Find schools and jobs that are enjoyable and interesting in their own right. Success will come more naturally that way.
I would also tell myself to have more confidence and trust and belief in myself. That goes a long way.
Leave a comment
Comments will be approved before showing up.