Interview: Dana Donofree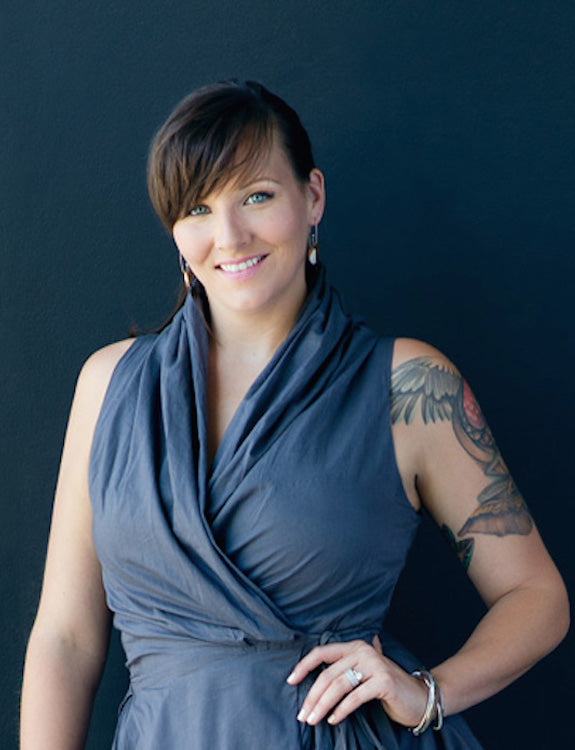 Tell us a bit about yourself: how would you describe yourself and your life in a quick snapshot?
I grew up in a tiny town called Bellbrook, in Ohio, and I always wanted to be an artist. I pursued that dream and went to art school in Savannah. After graduation, I flew to the Big Apple where all the dreams come true.
I had a great career. I was diagnosed with Stage 1 HER 2+ Breast Cancer at a very young age—27 years old. It came out of nowhere - totally unexpected.
That turn of events brought me to where I am now. The dream of designing and running my own fashion line. I wanted to dress myself after my surgery and still feel beautiful, and that is how AnoOno was born. 
AnaOno is a line of bras and loungewear designed for surgical recovery, radiation therapy, and post-surgery comfort and beauty 
Now, I live in Philadelphia with my husband and my dog, and I have my dream job.
If you had to describe yourself using three adjectives, what would they be?
Fun, passionate, and alive. 
When you were a child, what did you want to be when you grew up?
I always wanted to be a Janet Jackson backup dancer. I remember watching the Fly Girls on In Living Color.
What was your very first job? 
Working at the Bellbrook's little ice cream shop. 
What do you do to occupy your time: work, family, community?
I work a lot. My work is my life. It means being an advocate for Breast Cancer Awareness.
When not working, I'm a total foodie. I love trying new places and new foods—Philadelphia is awesome for that.
What are the hardest decisions you've had to make? 
A lot lately. I guess the hardest decision for me to make was whether to have kids or not. Being a young woman with breast cancer, I was faced with the question of whether I wanted to have kids. Even though I felt like I never wanted to have children, it seemed like an open ended question before my treatment. At the age of 27, I had to make a definitive decision—pretty fast—as to whether I did or not in order to receive treatment.
Tell us about any mentors or figures that are crucial to how you see the world or what you've chosen to do.
I draw inspiration from my community. The women who are active in breast cancer awareness-- changing the face of breast cancer. From the women I meet in a dressing room who tell me about their lives and their struggles to the woman running and making a difference at a foundation. They are using their talents to change the conversations about breast cancer. These women inspire me. So many women and mentors, I can't name just one.
What do you consider to be your greatest success this far? 
Wow! I think that my greatest success so far is taking the leap and launching AnaOno. All of the successes after it would mean nothing if I had been too afraid of failing. Having the guts to launch was a major success. 
What has been your greatest failure and what did you learn from it?
Cancer taught me something about myself. I can't do everything myself. I was a loner woman, "I can do it myself" type person. Cancer really changed that.
Then, business really taught me that I can't do everything myself. You might not have the money, but you have to find help somewhere. 
Rather than taking the help that was offered, I would try to do everything myself. Once I started accepting help, things really changed.
Women have to learn to be open to and supportive of helping each other. 
Where do you see yourself in 15 to 20 years?  
Hopefully on a beach drinking a cocktail. On vacation for life.
I would love to have sold my business. I would love to be consulting and helping other women to build their businesses. I love passing on the knowledge that I have worked hard to gain.
What is the top item on your bucket list – something you'd love to do but haven't yet?
Oh my God, I want to jump out of a plane.
Describe your personal style: how does it reflect your day to day and your values?
Even as a fashion designer, I'm really, really simple. Clean and modern, quick solutions for clothes. I'm always thinking about everyone else, not myself.
As an artist and artisan, I really love finding interesting and beautiful jewelry. Finding brands that are unique and supporting those that are as well.
I try to keep life simple so I can focus on growing the business. I always tell people that I have the largest closet—my business! 
If you ran into your 18-year old self, what advice would you give her? 
Have as much fun as you can possibly have. I was really anxious to get to college and start my career. I didn't really see the opportunities when I was young and carefree.
Life will happen to you, you don't have to MAKE it happen.
Leave a comment
Comments will be approved before showing up.